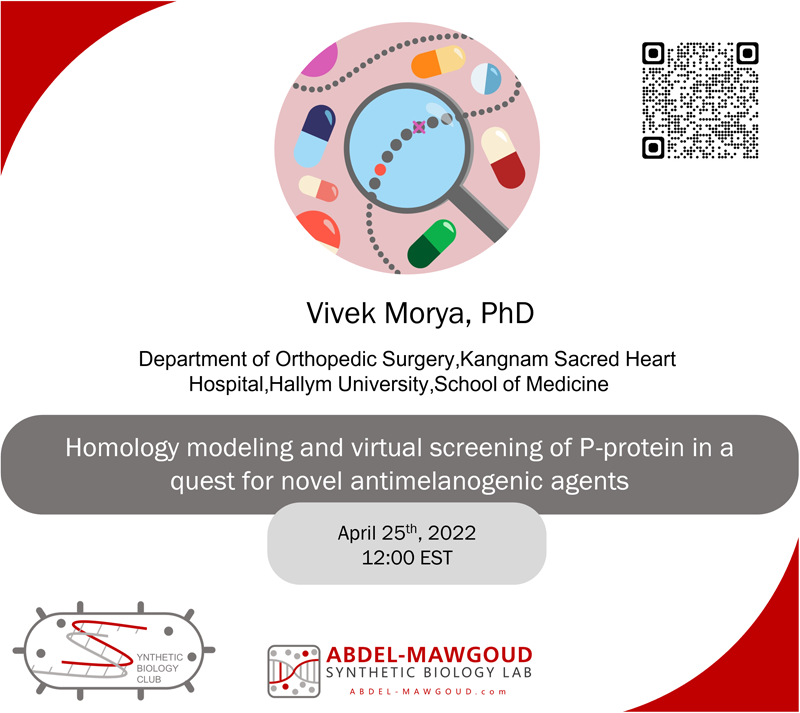 Reminder: Monthly Meeting of SB Club this April 25, 2022
We would like to remind about the online meeting of Synthetic Biology Club (SB club) that will be held Monday, April 25 at 12h00 (EST). Please, Click here to register after which you will receive the attendance link (zoom).
Title: "Homology modelling and virtual screening of P-protein in a quest for novel antimelanogenic agent and In vitro assessments" 
Presenter: Professor Vivek Morya, PhD, Department of Orthopedic Surgery, Kangnam Sacred Heart Hospital, Hallym University School of Medicine1, Singil-ro, Yeongdeungpo-gu, Seoul, South Korea.
Time: Monday, April 25, 2022 at 12h00 (EST).
Place: Online (via Zoom). The zoom link of is provided by email after your registration. Click here to register and attend.
Abstract: A piece of adequate knowledge on the molecular mechanism of melanogenesis provides an opportunity to find novel molecular targets for the discovery and development of new cosmetics. Among various genes, the OCA2 is being essential for proper melanin synthesis, and mutation or deletion of this gene leads to oculocutaneous albinism type 2. Thus, for this study, the product of this gene, that is P-protein, was targeted in the quest for novel inhibitors as antimelanogenic agents. Based on a pattern search of amino acid sequence and homology analysis, the protein structure was modelled. The role of this protein has been predicted as a tyrosine transporter of melanosomes. Thus, the molecular library was generated on the basis of tyrosine transporter inhibitor. Based on the dock score, 20 molecules have been considered as putative inhibitors for P-protein. Among these compounds, five molecules (compound #1, #4, #8, #13 and #17) were found to be quite effective as antimelanogenic without having any toxicity. Further investigations to establish the mechanism of action, the indirect methods such as tyrosinase assay, analysis for eumelanin and pheomelanin and investigation of mRNA levels were being carried out. The results from the studies offered a new lead in antimelanogenic therapy and may be very useful for further optimization work in developing them as novel depigmenting agents.