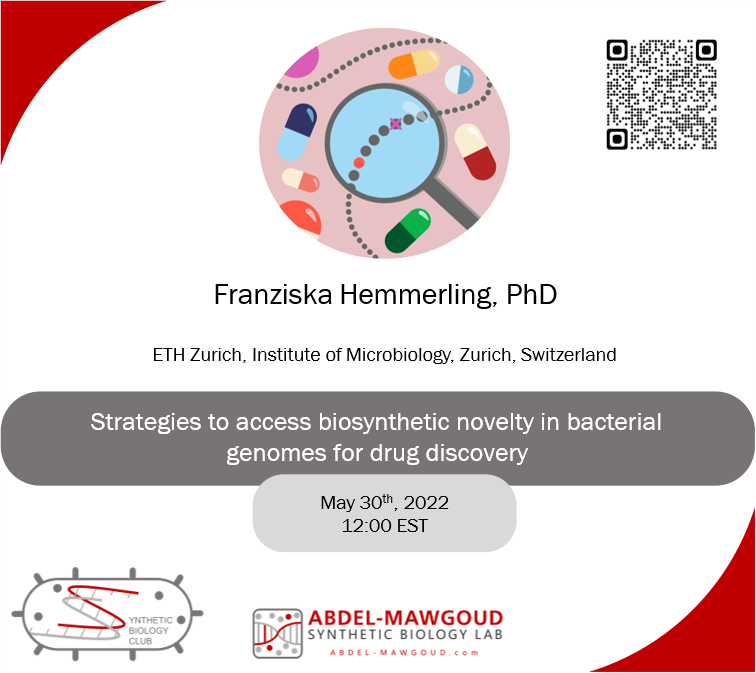 TODAY is the Monthly Meeting of SB Club, May 30, 2022
We would like to inform you that the monthly online meeting of Synthetic Biology Club (SB club) that will be held TODAY Monday, May 30 at 12h00 (EST). Please, Click here to register after which you will receive the attendance link (zoom).
Title: "Strategies to access biosynthetic novelty in bacterial genomes for drug discovery"
Presenter: Franziska Hemmerling, PhD, at ETH, Institute of Microbiology, Zurich, Switzerland.
Time: Monday, May 30, 2022 at 12h00 (EST).
Place: Online (via Zoom). The zoom link of is provided by email after your registration. Click here to register and attend.
Abstract: Bacteria provide a rich source of natural products with potential therapeutic applications, such as novel antibiotic classes or anticancer drugs. Bioactivity-guided screening of bacterial extracts and characterization of biosynthetic pathways for drug discovery is now complemented by the availability of large (meta)genomic collections, placing researchers into the postgenomic, big-data era. The progress in next-generation sequencing and the rise of powerful computational tools provide unprecedented insights into unexplored taxa, ecological niches and 'biosynthetic dark matter', revealing diverse and chemically distinct natural products in previously unstudied bacteria. In this Review, we discuss such sources of new chemical entities and the implications for drug discovery with a particular focus on the strategies that have emerged in recent years to identify and access novelty.