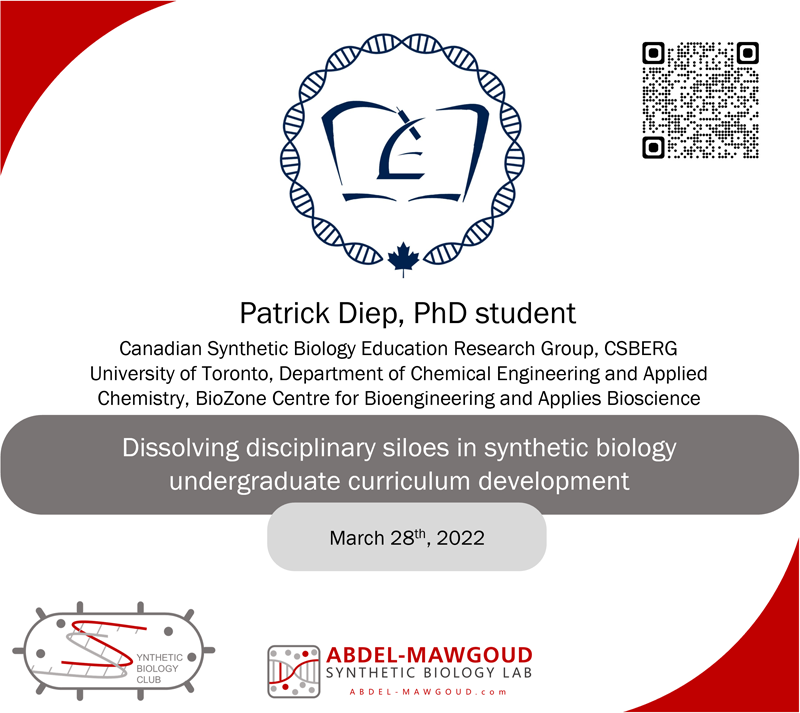 Reminder: Monthly Meeting of SB Club is TODAY this March 28, 2022
We would like to remind you that the meeting of Synthetic Biology Club (SB club) will be held on Monday 28 at 12h00 (EST), please register to attend.
Title: "Dissolving disciplinary siloes in synthetic biology undergraduate curriculum development" 
Presenter: Patrick Diep (PhD student), University of Toronto's BioZone Centre for Bioengineering and Applied Bioscience.
Time: Monday, March 28, 2022 at 12h00 (EST).
Place: Online (via Zoom). The zoom link of is provided by email after your registration. Click here to register.
Abstract: Synthetic biology (herein synbio) is interdisciplinary in nature. The flavours of synbio that many of us are most familiar with are the experimental, mathematical, and computational spices, but there are more spices on this rack: social sciences, intellectual property, governance, entrepreneurship and more. To cook up a synbio project based on strong fundamental principles, guided by problems that exists in society and the environment, a team of synbio practitioners is required to increase a synbio innovation's technology readiness level. Whether these teams be in the iGEM competition, industrial R&D, academic labs focusing on translational research, start-ups etc., we have one question at CSBERG: are we training students to have a career in such dynamic settings? In this presentation, we explore this question by first discussing the state of synthetic biology education from the perspective of iGEM students in 2019 and use these insights to ground our curriculum development for an introductory synbio course for the general undergraduate audience. Two iterations' worth of quantitative/ qualitative data for SYNB1 – Fundamentals of Synthetic Biology and SYNB2 – Synthetic Biology Implementation Sciences will be presented, and how these findings are deployed in our third cour offering this summer: SYNB3 – Introduction to Integrative Synthetic Biology is elaborated on. Future research directions are presented along with opportunities to volunteer with CSBERG in the future.