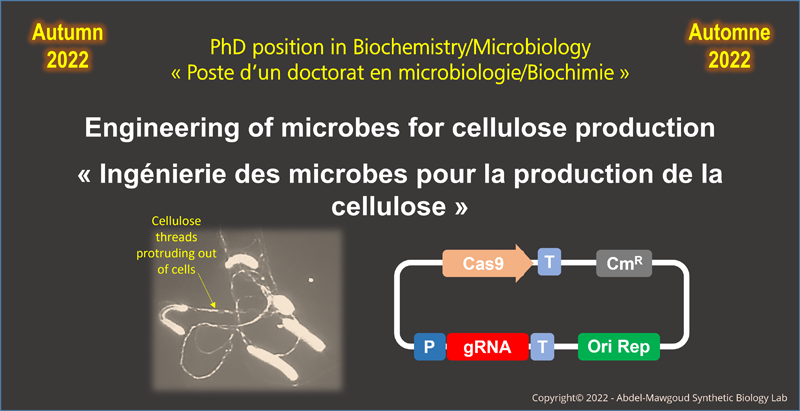 PhD position – Cellulose engineering – Autumn 2022
---
***English version follows*** 
Un poste de doctorat est disponible (avec une bourse) pour l'automne 2022.
Titre du projet: « L'ingénierie de cellulose chez des hôtes microbiens ».
Ce projet est une collaboration entre Pr. Abdel-Mawgoud (Supervisor) and Pr. Younès Messaddeq (Co-supervisor).
Date limite interne pour postuler: 15 mai 2022. Si vous êtes interessé.e, postulez SVP via le lien: https://abdel-mawgoud.com/application-form/
Résumé : La cellulose bactérienne BC est un produit biologique durable exceptionnel qui se démarque avantageusement de son homologue d'origine végétale par sa résistance mécanique, une pureté et une capacité de rétention d'eau supérieures. De plus, la plus grande malléabilité génétique des microbes par rapport aux plantes offre la possibilité de fonctionnaliser la BC avec différents groupes biochimiques et de contrôler la nanostructure de l'hydrogel lors de sa biosynthèse, favorisant ainsi un minimum de post-traitements. De par l'ensemble de ses caractéristiques, ce produit à valeur-ajoutée est candidat pour une diversité d'applications fines, comme les systèmes à libération contrôlée de médicaments et dans la médecine régénérative. Outre les applications médicales, la BC peut être utilisée dans de nombreuses applications industrielles à savoir, comme additifs de revêtement pour les composants optoélectroniques, comme matériau composant dans les écrans flexibles, les membranes de filtration et les capteurs ainsi que dans l'industrie de la cosméceutique. Les espèces bactériennes comptant parmi les meilleurs producteurs de BC se retrouvent sous le genre Komagataeibacter. Cependant, le manque d'outils génétiques efficaces développés pour Komagataeibacter ainsi que ça faible croissance et ensuite sa productivité de cellulose freinent la surproduction de la cellulose microbienne à l'échelle industrielle. Ce projet vise à exploiter les outils génétiques récemment développés par notre laboratoire pour la surexpression homologue ou hétérologues des gènes impliqués dans la production de cellulose. De plus, des stratégies de génie génétique et métabolique seront développées et évaluées afin de modifier les propriétés de la cellulose produite. La caractérisation des propriétés mécaniques et optiques des membranes de BC sera réalisée au Centre d'optique, photonique et laser (COPL) sur le campus.
Admissibilité: Titulaires d'un MSc, présentant un excellent dossier académique et ayant des antécédents dans au moins trois des domaines suivants: microbiologie, biochimie, biologie moléculaire et génie biologique.
---
***English***
An PhD position is available with a scholarship for autumn, 2022.
Title of the project: "Development of genetic tools for the engineering of cellulose production by Komagataeibacter"
Note: This project is a collaboration between the laboratories of Pr. Abdel-Mawgoud (Supervisor) and Pr. Younès Messaddeq (Co-supervisor).
Deadline for application: May 15, 2022. If you are interested, please apply via the link: https://abdel-mawgoud.com/application-form/
Abstract:
Bacterial BC cellulose is an outstanding sustainable biological product that offers outperforming alternatives to the plant-based counterpart because of its superior mechanical strength, purity and water retention capacity. In addition, the higher genetic malleability of microbes compared to plants allows for the modification or tailoring of the nanostructure of BC or its chemistry by loading it with different functional groups making value-added BC destined for a diversity of fine applications, such as in modified-release drug delivery systems and regenerative medicine. Apart from its medical applications, BC can also be used in many industrial applications like acting as coating additives to optoelectronic components, through flexible displays, filtration membranes and sensors as well as in cosmeceutical industries. Among the best producers of bacterial cellulose are several species of the bacterium Komagataeibacter. Nonetheless, the limited number of efficient genetic tools for the genetic manipulation of Komagataeibacter species as well as their limited growth and hence cellulose productivity is slowing down the overproduction of microbial cellulose on the industrial scale. This project aims at harnessing the genetic engineering tools recently developed in our lab for the homologous and heterologous overexpression of genes implicated in the production of cellulose. Moreover, genetic and metabolic engineering strategies will be developed for the aim of modifying the physicochemical properties of cellulose. Characterization of the mechanical and optical properties of BC membranes will be carried out at the Center for Optics, Photonics and Lasers (COPL) on campus.
Admissibility: Highly competitive BSc degree holders with backgrounds in at least three of the following domains: microbiology, biochemistry, molecular biology and biological engineering.
---