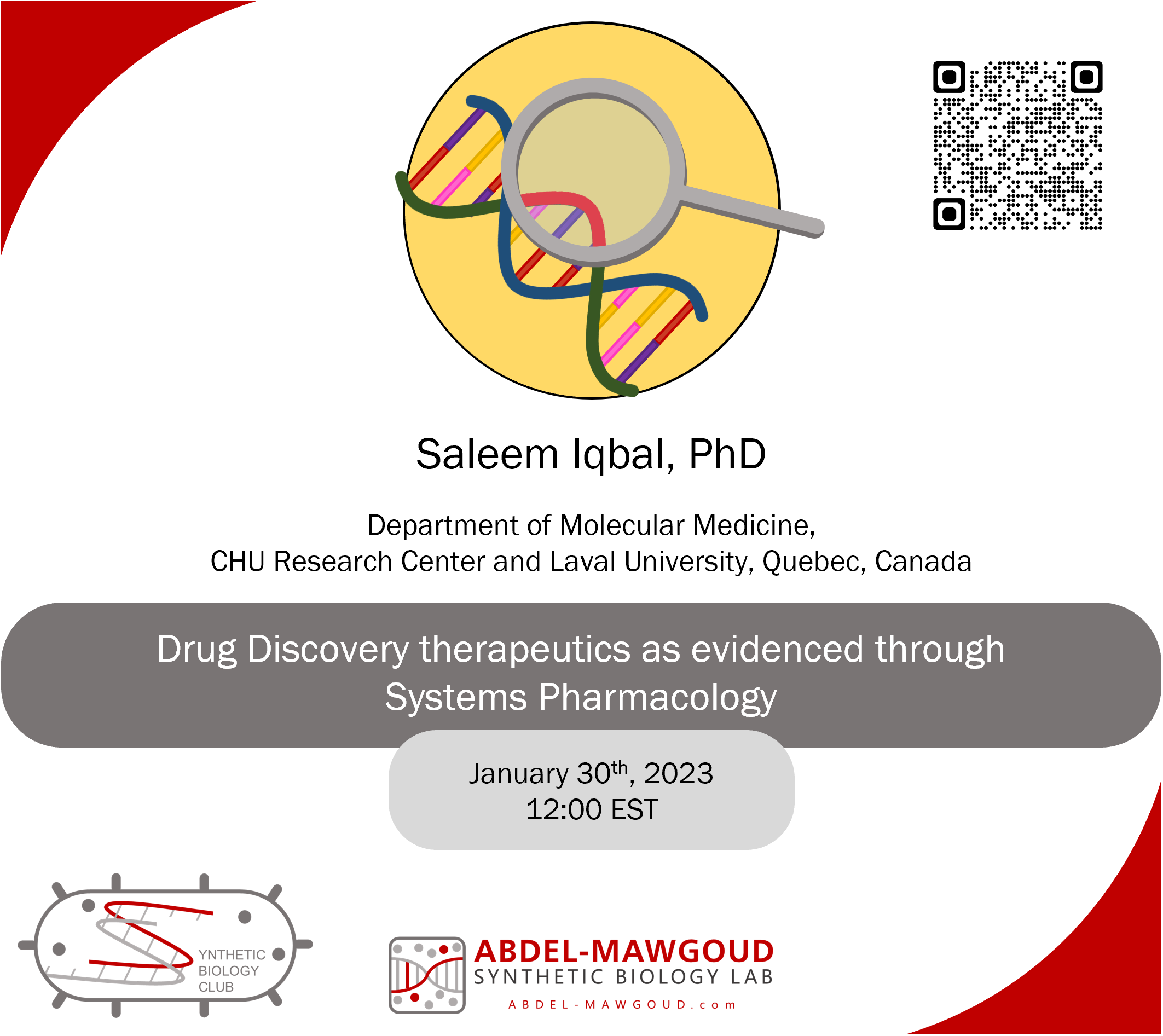 Today: Monthly Meeting of SB Club Monday, January 30, 2023
We would like to inform you that the monthly online meeting of Synthetic Biology Club (SB club) will be held this Monday, January 30 at 12h00 (EST). Please, Click here to register after which you will receive the meeting link (zoom).
Title: "Drug Discovery therapeutics as evidenced through Systems Pharmacology"
Presenter: Saleem Iqbal, Postdoctoral fellow/associate at the CHU Research Center and the Department of Molecular Medicine, Laval University, Quebec, Canada.
Time: Monday, January 30, 2023 at 12h00 (EST).
Place: Online (via Zoom). The zoom link of the meeting is provided by email after your registration. Click here to register.
Abstract: Background: System medicine approaches have played a pivotal role in identifying novel disease networks, especially in miRNA research. It is no wonder that miRNAs are implicated in multiple clinical conditions, allowing us to establish the hubs and nodes for network models of Alzheimer's Disease (AD). δ-secretase, also known as asparagine endopeptidase (AEP) or legumain (LGMN), is a lysosomal cysteine protease that cleaves peptide bonds C-terminally to asparagine residues in both amyloid precursor protein (APP) and tau, mediating the amyloid-β and tau pathology in AD. Methods: Protein-Protein Interaction (PPI) networks of LGMN or δ-secretase were constructed using the Genemania database. Network Analyzer, a Cytoscape plugin, analyzed the network topological properties of LGMN. miRNAs related to Alzheimer's were extracted from the HMDD (Human microRNA Disease Database) and experimentally verified miRNA-gene interaction was obtained by searching miRWalk. Starbase v2.0 and miRanda were used for screening miRNA of LGMN genes. Conclusion: In a first-of-its-kind study, the LGMN gene-related regulatory miRNAs resulted in the identification of AD-specific TFs and miRNAs involved in AD. Our findings reveal the dysregulated miRNA: hsa-mir-26b-5p could be used as a biomarker in the diagnosis of AD. Moreover, our 200ns molecular dynamic simulations revealed oprea1 as identified drug and its stablity into the binding pocket of the δ-secretase.