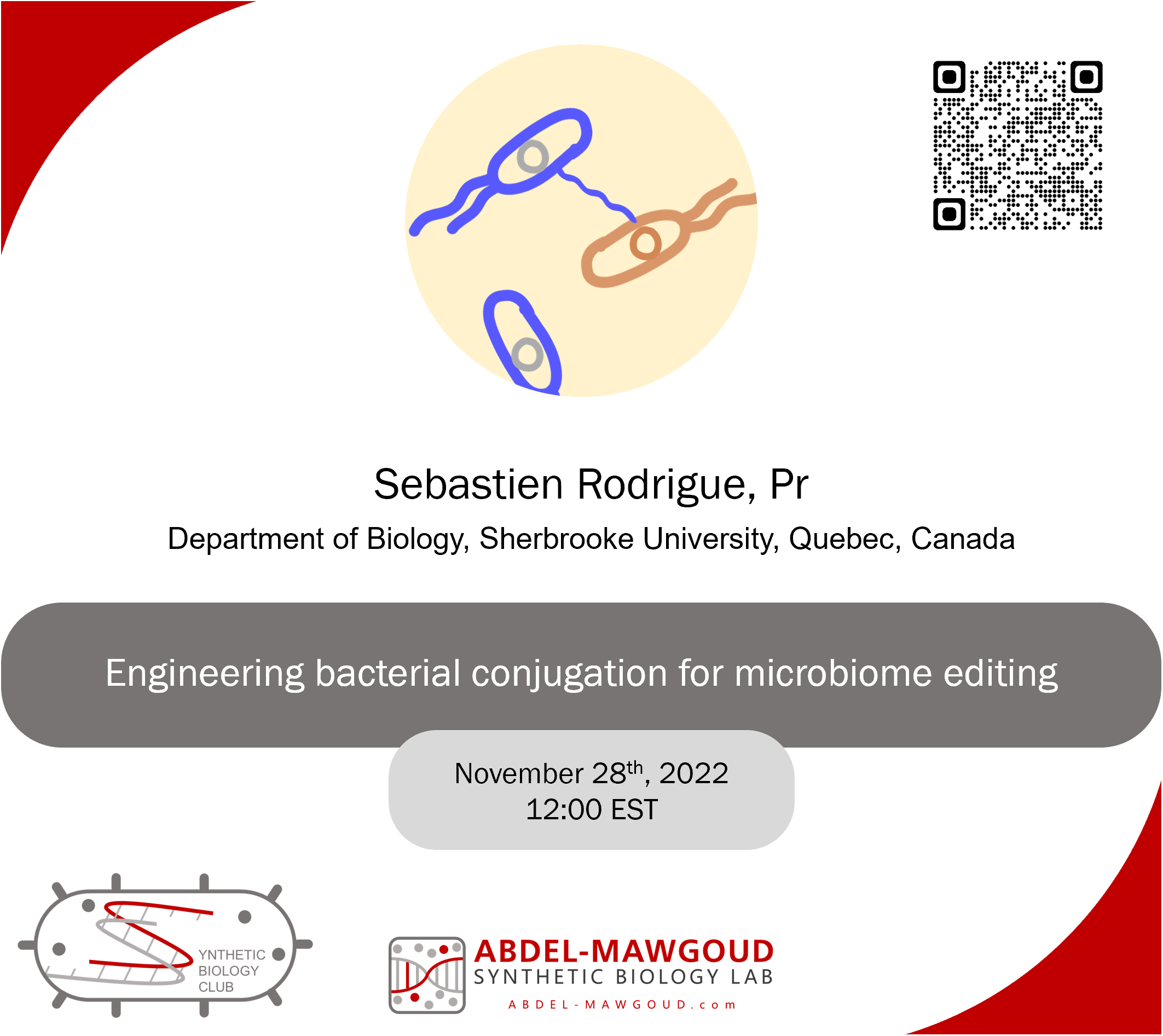 Reminder: Today will be the SB Club meeting, November 28, 2022
** If you have already registered for this meeting and received the meeting link, please ignore this reminder **
We would like to inform you that the monthly online meeting of Synthetic Biology Club (SB club) will be held this Monday, November 28 at 12h00 (EST). Please, Click here to register, after which you will receive the meeting link (zoom).
Title: "Engineering bacterial conjugation for microbiome editing"
Presenter: Dr. Sebastien Rodrigue, Professor at the Department of Biology, Sherbrooke University, Quebec, Canada.
Abstract: Antibiotic resistance threatens our ability to treat infectious diseases, spurring interest in alternative antimicrobial technologies. The use of bacterial conjugation to deliver CRISPR‐Cas systems programmed to precisely eliminate antibiotic‐resistant bacteria represents a promising approach but requires high in situ DNA transfer rates. We have optimized the transfer efficiency of conjugative plasmid TP114 using accelerated laboratory evolution. We hence generated a potent conjugative delivery vehicle for CRISPR‐Cas9 that can eliminate > 99.9% of targeted antibiotic‐resistant Escherichia coli in the mouse gut microbiota using a single dose. We then applied this system to a Citrobacter rodentium infection model, achieving full clearance within four consecutive days of treatment. Our results suggest that engineered probiotics could provide an interesting alternative to antibiotics in the prevention or treatment of infections and dysbiosis.