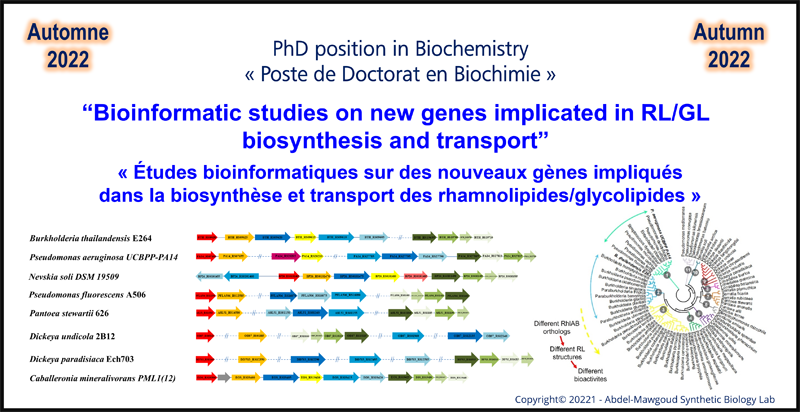 PhD position – RL genes – Autumn 2022
---
***English version follows***
Un poste de doctorat avec bourse est disponible pour un début en automne 2022.
Titre du projet: « Études bioinformatiques sur des nouveaux gènes impliqués dans la biosynthèse et transport des rhamnolipides/glycolipides ».
Sommaire du projet :
Les rhamnolipides (RL) sont des glycolipides (GL) d'origine microbienne ayant des applications en médecine (comme des agents antimicrobiens, antibiofilms, immunomodulateurs, etc.), en agro-alimentaire et phytosanitaire, en bioremédiation, comme détergents et dans les industries pétrolières (
lire plus
).
Nous avons identifié récemment, par des outils bio-informatiques, plus que 70 nouveaux producteurs potentiels des RL/GL (
lire plus
). Nous avons aussi découvert des gènes putativement impliqués dans le transport des RL/GL. Nous voulons maintenant poursuivre nos études
in silico
 sur ces gènes et faire les validations experimentales associées
Ce projet requière principalement une connaissance de bioinformatique, microbiologie et biochimie.
Admissibilité : Nous recherchons des titulaires d'une maîtrise hautement motivé.e.s et compétiti.f.ve.s ayant une formation dans au moins trois des domaines suivants :
Bioinformatique
Biologie moléculaire
Biochimie

Microbiologie
---
***English version***
A PhD position with scholarship is available for a start as early as Autumn 2022.
Title of the project: "Bioinformatic studies on new genes implicated in RL/GL biosynthesis and transport"
Project Summary:
Rhamnolipids (RL) are glycolipids (GL) of microbial origin with applications in medicine (as antimicrobial agents, antibiofilms, immunomodulators, etc.), in agro-food and phytosanitary, in bioremediation, as detergents and in oil industries (
read more
).
We have recently identified, by bioinformatics tools, more than 70 new potential producers of RL/GL (
read more
). 
We also discovered genes putatively involved in RL/GL transport. We now want to pursue our
in silico
studies on these genes and conduct necessary experimental validations. 
This project mainly requires knowledge of bioinformatics, microbiology and biochemistry.
Admissibility: We are seeking highly motivated and competitive MSc degree holders with backgrounds in at least four of the following domains:
Bioinformatics
Molecular biology
Biochemistry

Microbiology
---