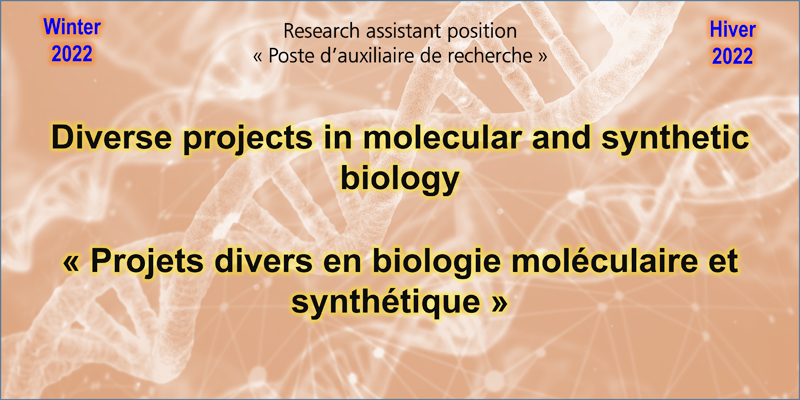 Research Assistant Position – Winter 2022
***English version follows***POSITION REMPLIE***
Un poste d'auxiliaire de recherche (temps partiel: 10-15 heures/semaine) est disponible pour l'hiver 2022 (pour un placement immédiat, signature de contrat fin novembre – debut decembre 2021).
Titre : « Projets divers en biologie moléculaire et synthétique ».
Date limite interne: 25 novembre 2021.
Poste à combler au plus tart le: 10 janvier 2022.
Détails du poste:
Nous enseignons le cours "Laboratoire de génétique moléculaire et biologie synthétique", BCM-3010, au premier cycle. Dans un contexte du domaine de la biologie moléculaire et synthétique qui évolue rapidement et qui a témoigné de grandes avancées, nous visons mettre à jour des expériences enseignées dans ce cours. Nous recherchons donc des auxiliaires de recherches brillants et très motivés qui vont aider au developpement de nouvelles expériences de labo pour ce cours!
Les activités de ce poste sont principalement des activités de laboratoire qui inclu aussi la rédaction des protocoles. La personne embauchée aura l'occasion de présenter l'avancement de son travail lors des réunions hebdomadaires du laboratoire Abdel-Mawgoud de biologie synthétique.
Admissibilité:
Les peronnes qui suivent un programme de Biochimie, ou de Microbiologie, ou de Biologie de 1er ou 2e cycles ou des programmes equivalents sont adimissibles. 
Nous avons une préférence pour les étudiant.e.s qui ont suivi le cours BCM-3010 ou des cours similaires ou qui travaillent sur des projets de recherche à forte intensité en biologie moléculaire.
*** English version ***POSITION FILLED***
A research assistant position (partial time, 10-15 hrs/week) is available for winter 2022 (for immediate hiring, signature of contract is expected by the end of November – beginning of December 2021).
Titre : « Diverse projects in molecular and synthetic biology ».
Application Deadline: November 25, 2021.
Position to be filled latest on: January 10, 2022.
Position details:
We teach the undergraduate course "Laboratory of Molecular Genetics and Synthetic Biology", BCM-3010. In the context of the rapidly evolving field of molecular and synthetic biology which has witnessed great advances recently, we aim to update experiments taught in this course. We are therefore looking for brilliant and highly motivated research assistants who will help develop new lab experiments for this course!
The activities of this position are mainly laboratory activities which also include writing of laboratory protocols. The hired person will have the opportunity to present the progress of their work during the weekly meetings of Abdel-Mawgoud synthetic biology laboratory.
Admissibility:
Peoples who are following a Biochemistry, Microbiology, or Biology program of equivalent of 1st or 2nd cycles are eligible.
We have a preference for those who have already taken the course BCM-3010 or similar courses or who are working on molecular biology intensive projects.