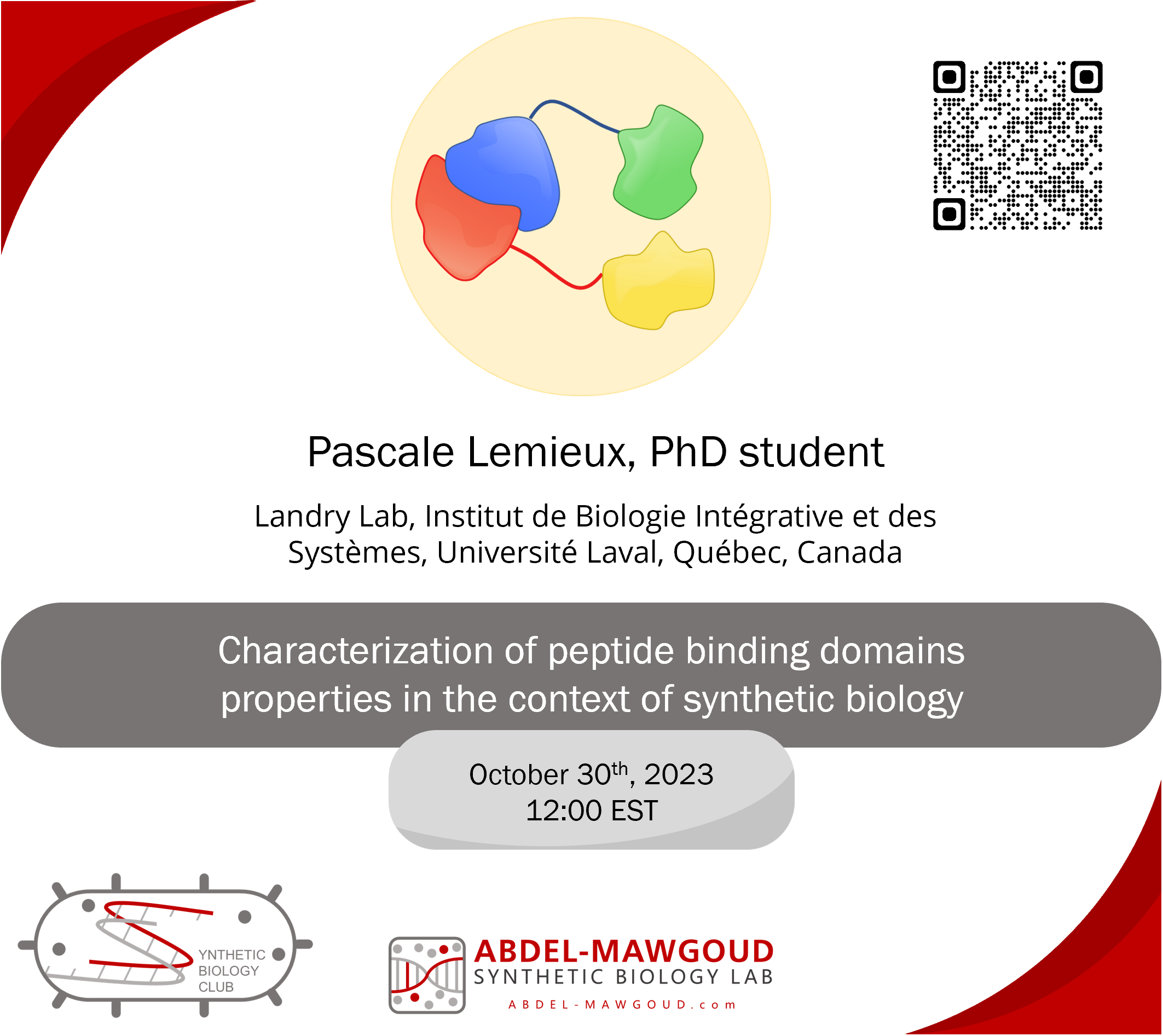 Monthly Meeting of SB Club this October 30, 2023
We would like to inform you that the monthly online meeting of Synthetic Biology Club (SB club) will be held this Monday, October 30 at 12h00 (EST). Please, Click here to register after which you will receive the meeting link (zoom).
Title: "Characterization of peptide binding domains properties in the context of synthetic biology"
Presenter: Pascale Lemieux, PhD student at Landry Lab at the Institut de Biologie Intégrative et des Systèmes, Université Laval, Québec, Canada.
Time: Monday, October 30, 2023 at 12h00 (EST).
Place: Online (via Zoom). The zoom link of the meeting is provided by email after your registration. Click here to register.
Abstract: This project focuses on the characterization of synthetic protein scaffold build with peptide binding domains (ex. SH3, PDZ). By tagging enzymes of a synthetic pathway with the peptides bound by those domains, we promote colocalization of the enzymes. Doing so, the synthetic pathways become more efficient by limiting the intermediary metabolite diffusion. We know this system works in E. coli, but its success is very limited in S. cerevisiae. For more modularity, there is a need to characterize more domain-peptides pairs in this background. Thus, I will test in vivo the interaction strength of multiple domain-peptide pairs in a high throughput fashion. This work uses a protein-fragment complementation assay to characterize protein-protein interaction in yeast. Combined with in silico experiments, this project has the potential to portray the functionality and specificity of exogenous peptide-domain pairs and better predict the success of synthetic scaffolds in yeast.