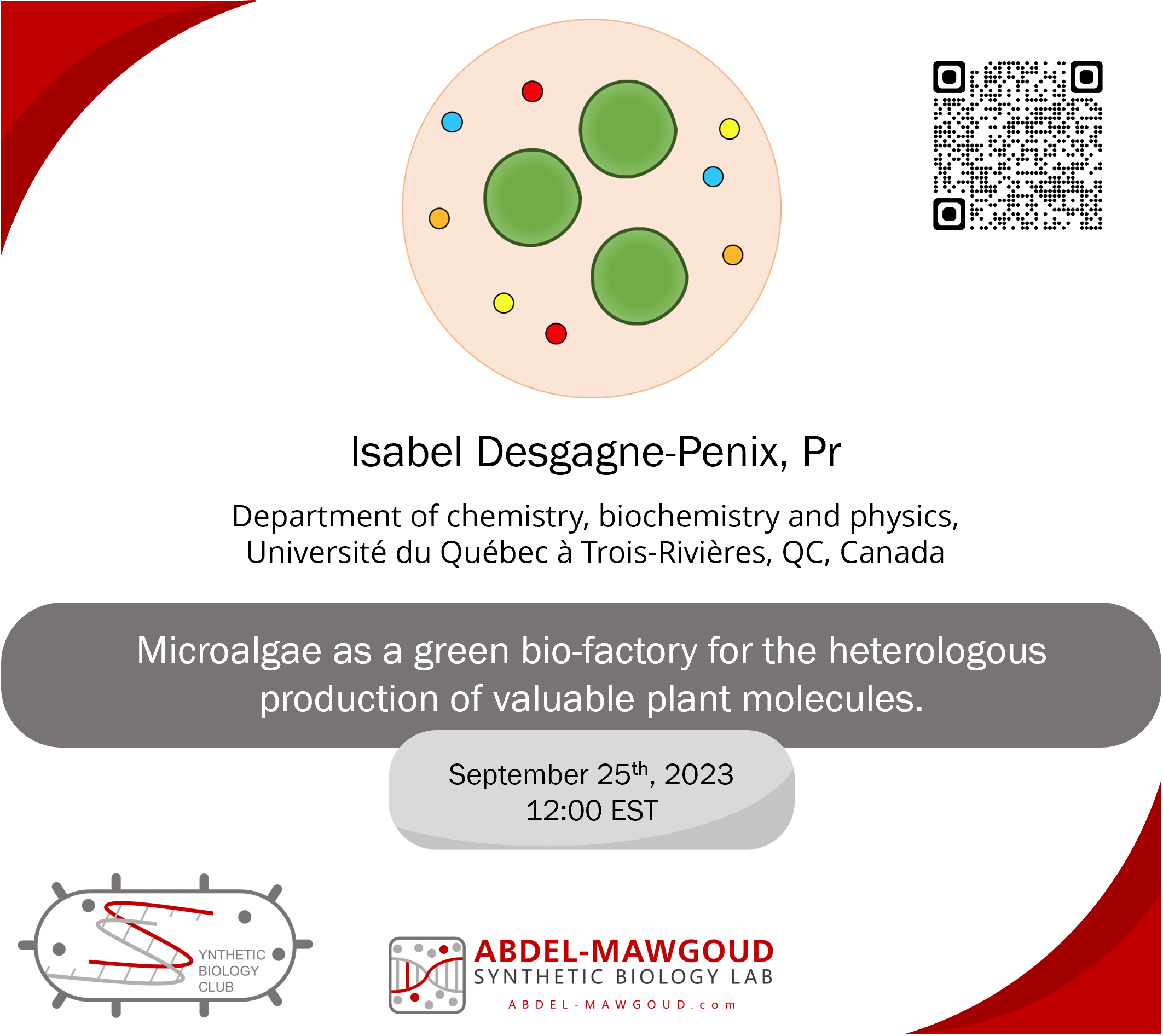 Monthly Meeting of SB Club Next Monday, September 25, 2023
We would like to inform you that the monthly online meeting of Synthetic Biology Club (SB club) will be held this Monday, September 25 at 12h00 (EST). Please, Click here to register after which you will receive the meeting link (zoom).
Title: "Microalgae as a green bio-factory for the heterologous production of valuable plant molecules."
Presenter: Isabel Desgagne-Penix, Professor at the Department of chemistry, biochemistry and physics, Université du Québec à Trois-Rivières, QC, Canada.
Time: Monday, September 25, 2023 at 12h00 (EST).
Place: Online (via Zoom). The zoom link of the meeting is provided by email after your registration. Click here to register.
Abstract: Plant molecules have been used for treating human ailments since prehistoric times and are still the most important source for the majority of today's medicines. The phytochemical diversity of plants is remarkable, with hundreds of thousands of molecules with a vast diversity of structures and biological roles. Some plant molecules have high-value for medical applications, although may be found in their native contexts in low abundance or be difficult or costly to extract and purify. The alternative heterologous production in heterotrophic microbial hosts such as bacteria or yeasts has been an active area of research for some time and is now a mature technology with some challenges for the production of complex plant molecules. Eukaryotic microalgae represent sustainable alternatives to these hosts for biotechnological production processes as their cultivation can be driven by light and freely available CO2 as a carbon source. In addition, microalgae possess most of the metabolic architectures to support the generation of complex plant molecules. Although engineering strategies in microalgae have lagged behind more genetically tractable bacteria and yeasts, recent advances in algal engineering concepts have provided molecular tools for genetic engineering of microalgae. These tools have been used to enhance metabolic pathway engineering and accelerate the development of renewable and sustainable microalgal biomanufacturing platform.