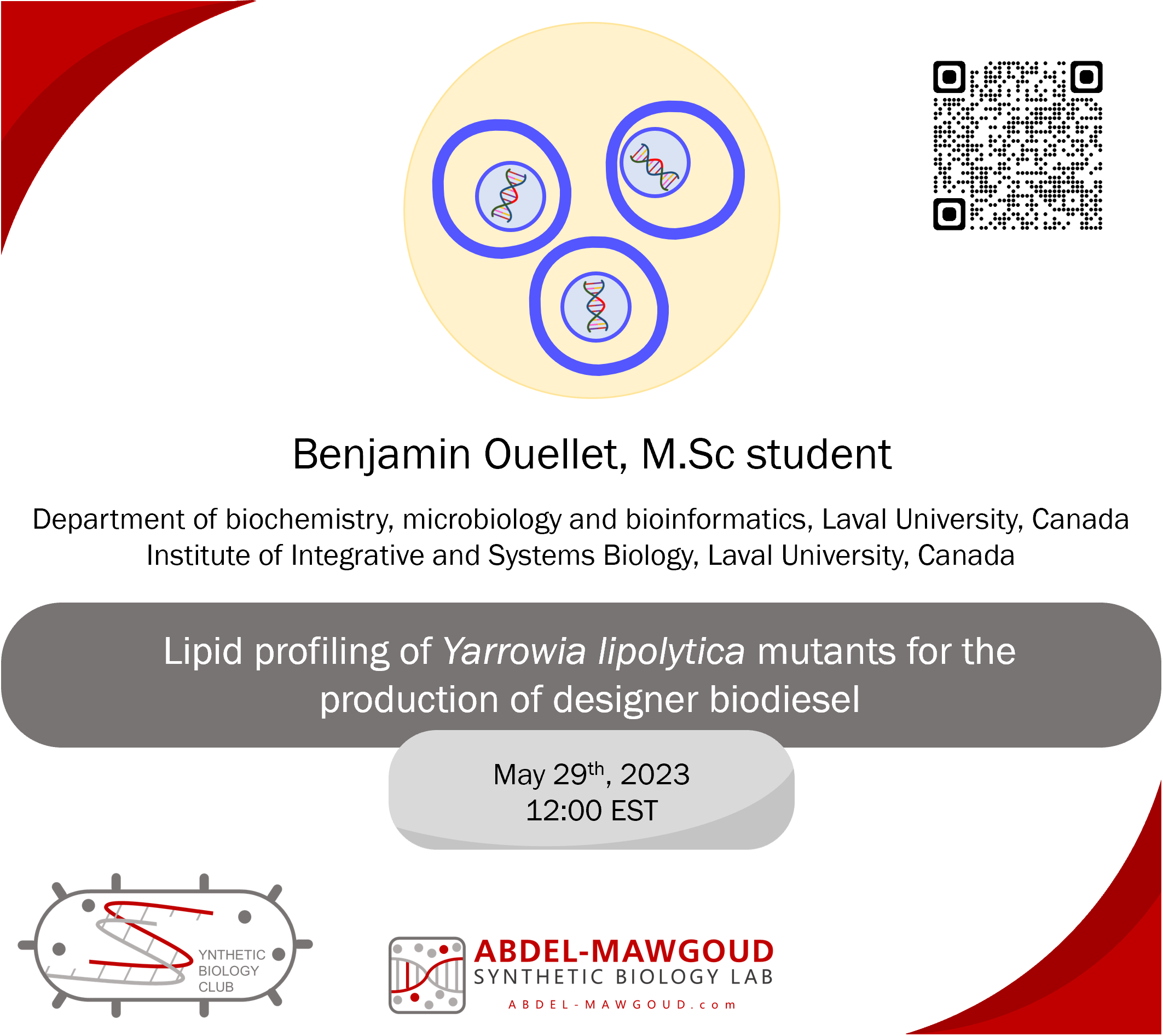 Monthly Meeting of SB Club Monday, May 29, 2023
We would like to inform you that the monthly online meeting of Synthetic Biology Club (SB club) will be held this Monday, May 29 at 12h00 (EST). Please, Click here to register after which you will receive the meeting link (zoom).
Title: "Lipid profiling of Yarrowia lipolytica mutants for the production of designer biodiesel"
Presenter: Benjamin Ouellet, M.Sc Student at the Department of biochemistry, microbiology and bioinformatics, Laval University, Canada, and Institute of Integrative and Systems Biology, Laval University, Canada
Time: Monday, May 29, 2023 at 12h00 (EST).
Place: Online (via Zoom). The zoom link of the meeting is provided by email after your registration. Click here to register.
Abstract: Biodiesels are a growing fuel class with the advancement of sustainable and renewable energy. Despite the advantages they hold over petroleum diesel, such as higher cetane number and reduced emissions, the current biodiesels are limited mainly in their cold flow properties. Advances in the 4 generations of biodiesel as well as the chemical and physical modification of feedstock oil in the production of designer biodiesel have however resulted in biodiesels of low stability or greater cost. With the promising approach of biodiesel production through genetic modification, here we genetically modified the oleaginous yeast Yarrowia lipolytica in order to shift its lipid composition towards biodiesel with improved properties. Mutations mfe1, pex10 and pox2 generated lipid profiles associated with improved flow properties despite a small reduction in cetane number predicted by mathematical regressions. Statistical analysis based on full-facorial regressions of biodiesel properties in function of average biodiesel composition led to the identification of potential optimal composition of 17.63 average chain length and 1.29 – 1.51 average unsaturation degree. This study shows the potential of genetically driven improvement of designer biodiesel in order to produce more efficient and reliable biofuel.