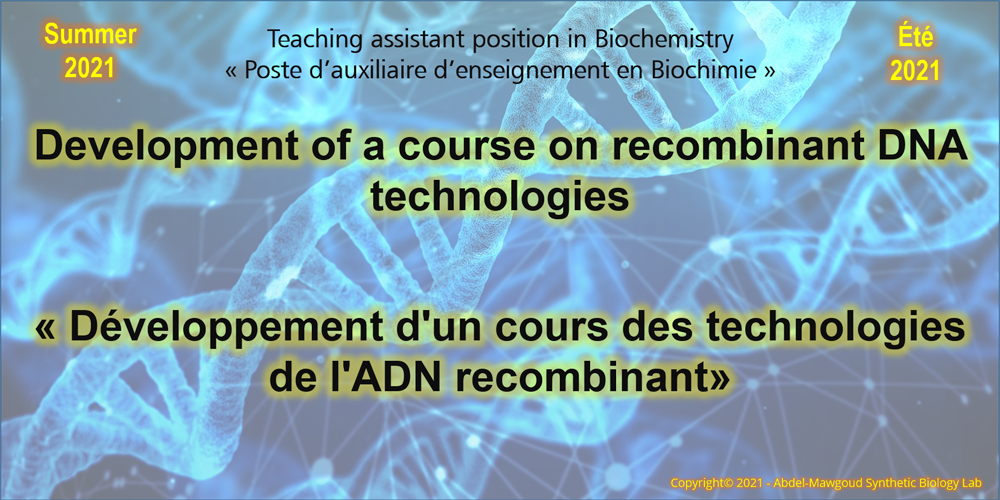 Teaching Assistantship – Summer 2021
***English version follows***
Un poste d'auxiliaire d'enseignement est disponible pour l'été 2021 (pour un placement immédiat).
Titre :
«
Développement d'un cours des technologies de l'ADN recombinant
».
Date limite interne:
31 mars 2021
. Si vous êtes intéressé.e, postulez SVP via le lien:
https://abdel-mawgoud.com/application-form/
En même temps il faut postuler aussi via
le lien SPLA
de l'université Laval. (Numéro d'offre SPLA # 345559)
Poste à combler le:
1er mai 2021
.
Détails du poste:
Nous enseignons le cours des technologies d'ADN recombinant au premier cycle. Ce cours couvre les sujets de la synthèse de l'ADN, de l'assemblage de l'ADN, du clonage de l'ADN, de la transformation, de l'édition du génome et de la biologie synthétique. Dans un contexte du domaine de la biologie moléculaire qui évolue rapidement et qui a témoigné de grandes avancées, nous visons mettre à jour le contenu de ce cours ainsi que les approches pédagogiques utilisées pour l'enseigner afin de le rendre plus intéressant et surtout accessible universellement par TOUS les étudiants. Nous recherchons donc des auxiliaires de recherches brillants, très motivés et créatifs qui souhaitent rafraîchir leurs connaissances en biologie moléculaire, être à jour avec les techniques et technologies les plus récentes, des technologies de l'ADN recombinant ainsi que d'ajouter une production / contribution scientifique à leur CV. De plus, cette opportunité sera extrêmement utile pour ceux qui souhaitent combler des postes d'enseignement plus tard dans leur carrière, car les candidats apprendront à préparer du matériel pédagogique. Sans compter que ce travail aura un impact positif sur les futurs étudiants qui suivront ce cours! Les activités de ce poste sont principalement du travail de bureau qui comprend la préparation de plans de cours, la gestion de contenu, la production de figures et d'illustrations ainsi que la planification d'activités d'apprentissage (pédagogiques) en collaboration avec Pr. Ahmad Saleh. La personne embauchée aura l'occasion de présenter l'avancement de son travail lors des réunions hebdomadaires du
laboratoire Abdel-Mawgoud de biologie synthétique
. La conception du cours sera telle qui respecte les principes de
la conception universelle pour l'apprentissage (UDL)
qui est une approche pédagogique qui vise à répondre aux besoins de chaque étudiant dans une salle de classe avec toutes les variations possibles.
Admissibilité:
Biochimie, Biologie moléculaire, Bioinformatique, Excellentes compétences rédactionnelles en français (ainsi qu'en anglais), Capacité à réaliser des illustrations créatives. Nous avons une préférence pour les étudiant.e.s de 2
e
cycle qui ont suivi des cours similaires ou qui travaillent sur des projets de recherche à forte intensité de biologie moléculaire. Les candidats devront présenter des travaux antérieurs démontrant leur capacité en rédaction et en production scientifiques.
*** English version ***
Titre :
«
Development of a course on Recombinant DNA Technologies
».
Application Deadline: 31st of March 2021
. If you are interested, please apply via the link: 
https://abdel-mawgoud.com/application-form/
In the same time you have to apply also through
SPLA portal
of Laval University (SPLA job offer #
345559
).
Position to be filled:
1st of May 2021
.
Position details:
We are teaching the undergraduate course of Recombinant DNA Technologies that covers the topics of DNA synthesis, DNA assembly, DNA cloning, DNA transfer (transformation of organism), Genome Editing and Synthetic Biology. In the context of the rapidly evolving domain of molecular biology that witnessing great breakthroughs, we aim at updating the contents of this course as well as the pedagogic approaches used in teaching it so that to make it more interesting and most importantly universally accessible by ALL students. We are thus seeking brilliant, highly-motivated, creative teaching assistants who would like to refresh their molecular biology knowledge, to be up-to-date with the most recent techniques and technologies of recombinant DNA technologies as well as to add to this course as one of their scientific production/contribution. Moreover, this opportunity will be extremely useful for those who aim at teaching positions later in their career as candidates will learn how to prepare pedagogic materials. Not to mention, that this work will have a positive impact on future students taking this course! The activities of this position are mostly office work that involves course plan preparation, content management, production of figures and illustrations as well as planning of learning (pedagogic) activities. The hired person will have the opportunity to present his/her work progress in weekly lab meeting of
Abdel-Mawgoud's Synthetic Biology Lab
. The design of the course will be such that it complies with the concept of
Universal Design for Learning (UDL)
which is a teaching approach that aims at meeting the needs of every student in a classroom with all possible variations.
Admissibility:
Biochemistry, Molecular Biology, Bioinformatics, Excellent writing skills in French (as well as English), Capacity to make creative illustrations. We have a preference to postgraduates (MSc students) who took similar courses or are working on molecular biology-intensive research projects. The candidates will need to present previous work demonstrating their capacity in scientific writing and production.