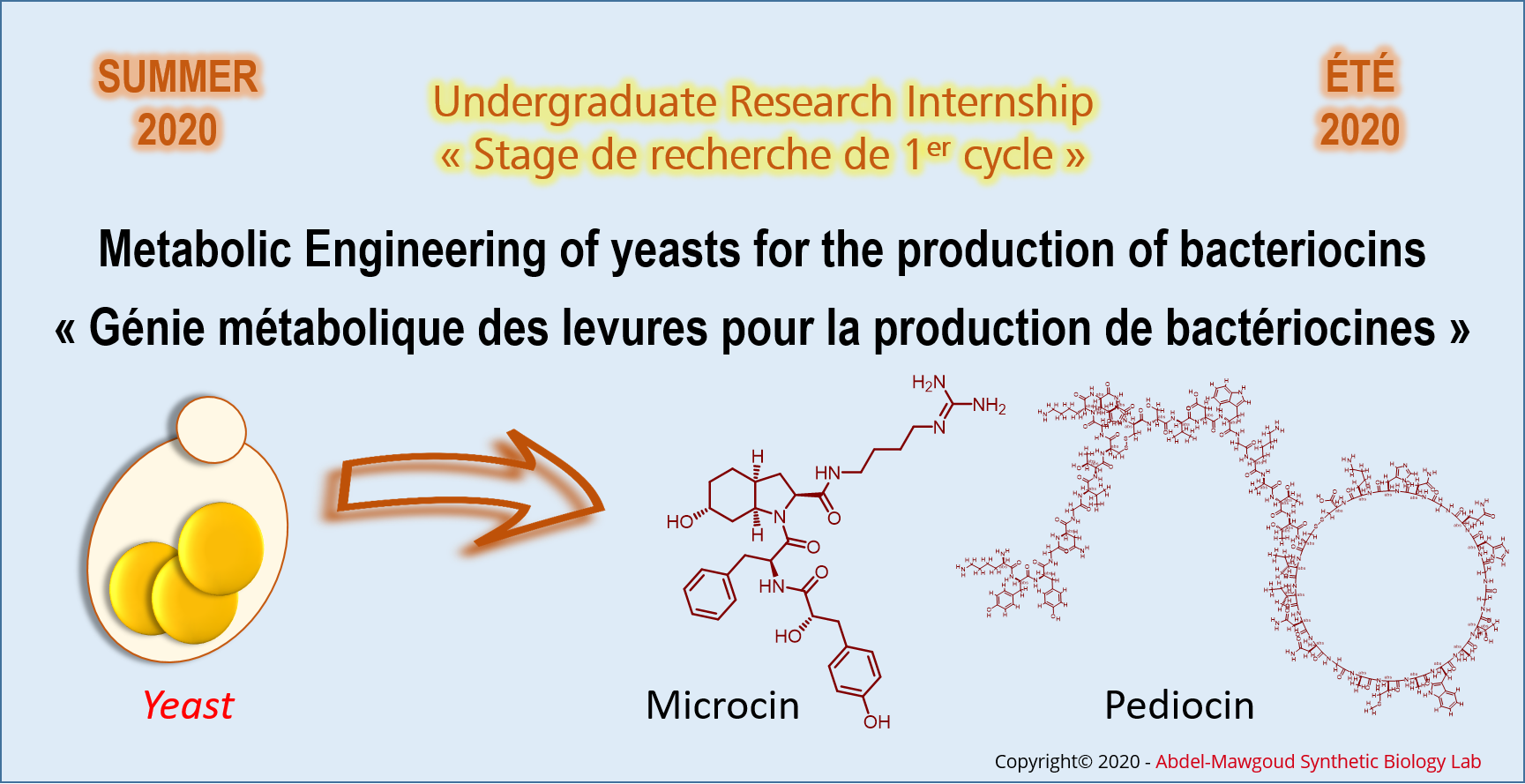 Intern Position (Bacteriocins)-Summer 2020
***English version follows***
Une opportunité pour un stage rémunéré (temps complet), est disponible cet été 2020.
Ce projet est une collaboration entre les laboratoires du Pr. Ismail Fliss et du Pr. Abdel-Mawgoud.
Date limite interne: 16 février 2020. Si vous êtes interessé.e, postulez via le lien: https://abdel-mawgoud.com/application-form/
Titre : « Génie métabolique des levures pour la production de bactériocines »
Résumé : Les bactériocines sont des peptides qui représentent les alternatives les plus prometteuses aux antibiotiques conventionnels. Ils sont plus sûrs pour l'homme, plus puissants contre certains pathogènes, plus stables à la température. Malgré ces avantages, l'utilisation des bactériocines reste limitée, principalement en raison des coûts de production élevés dus aux faibles rendements de production des producteurs de bactéries indigènes. Par conséquent, ce projet vise à surexprimer ces peptides bioactifs dans des plateformes de levure hétérologues dans le but de réduire les coûts de production. L'interaction bactériocine-levure sera évaluée, les gènes biosynthétiques clonés dans les levures hôtes et les molécules de bactériocine analysées. Les cycles de biologie synthétique de «conception-construction-test» seront répétés de manière itérative au besoin.
Expertise acquise: Il s'agit d'une expertise en biologie moléculaire, chimie/biochimie, microbiologie, et en analyses moléculaires par LC-MS, et autres.
Admissibilité: Étudiants de premier cycle hautement compétitifs.
**English**
An opportunity for a remunerated full-time internship is available this Summer-2020.
This project is a collaboration between the laboratories of Pr. Ismail Fliss and Pr. Abdel-Mawgoud.
Deadline: 16 February 2020. If you are interested, apply via the link: https://abdel-mawgoud.com/application-form/
Title: "Metabolic Engineering of yeasts for the production of bacteriocins"
Summary: Bacteriocins are peptides that represent the most promising alternatives to conventional antibiotics. They are safer to human, more potent against certain pathogens, more stable to temperature. Despite these advantages, the use of bacteriocins remains limited, mostly due to high production costs stemming from the low production yields of native bacterial producers. Therefore, this project aims at overexpressing these bioactive peptides in heterlogous yeast platforms in an attempt to reduce costs of production. Bacteriocin-yeast interaction would be evaluated, biosynthetic genes cloned in the host yeast and bacteriocin molecules analyzed. Synthetic Biology Cycles of "design-build-test" will be iteratively repeated as required.
Acquired Expertise: The research experience that would be gained in this project are molecular biology, chemistry / biochemistry, microbiology, and molecular analyses using LC-MS and others.
Admissibility: Highly competitive undergraduate students.