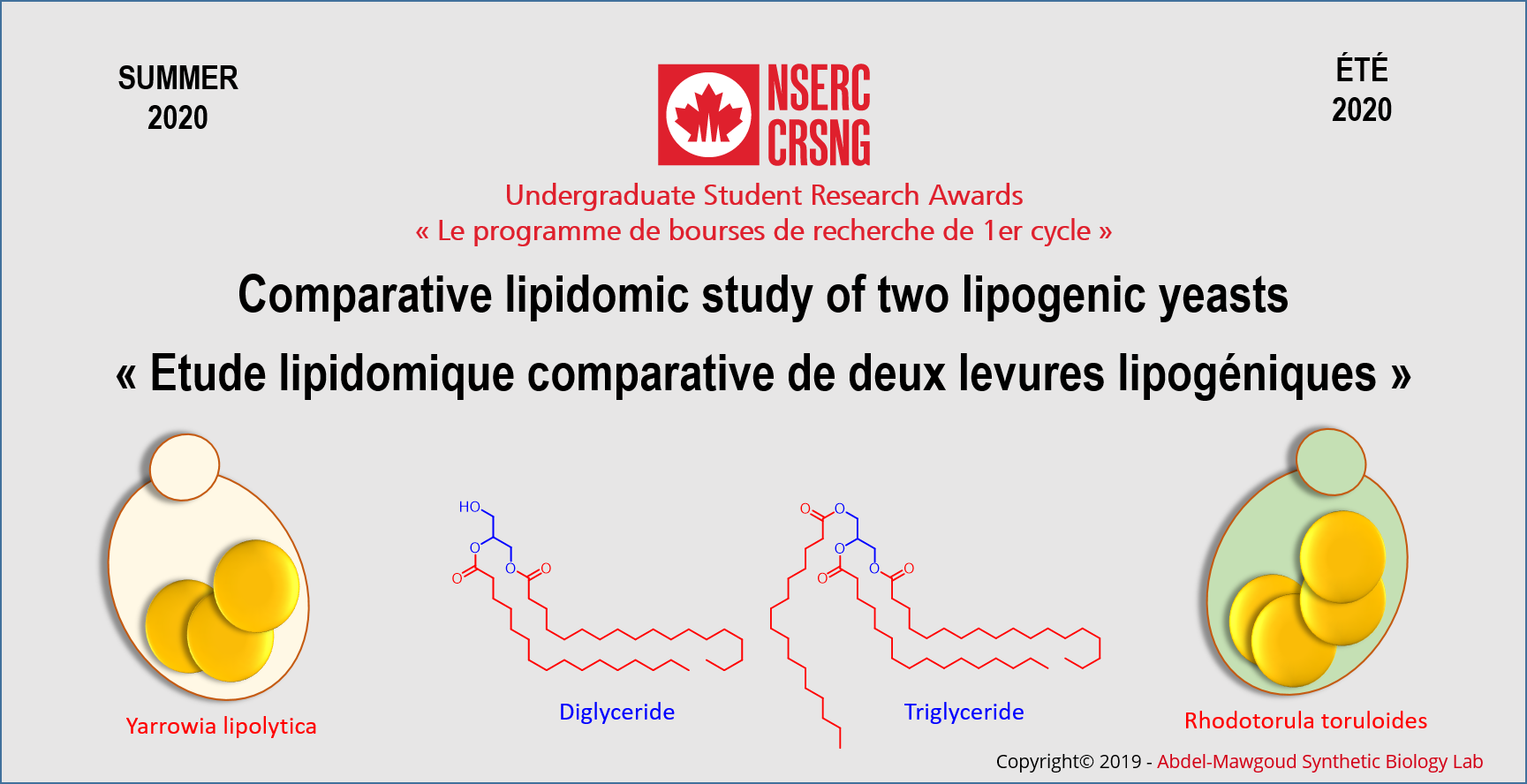 Intern Positions – Summer 2020
***English version follows***
Une ouverture très compétitive pour un stage rémunéré (temps complet), subventionné par CRSNG-Le programme de bourses de recherche de 1er cycle, est disponible cet été 2020.
Date limite interne: 02 février 2020. Si vous êtes interessé.e, postulez via le lien: https://abdel-mawgoud.com/application-form/
Titre : « Etude lipidomique comparative de deux levures oléagineuses »
Résumé : Les levures oléagineuses accumulent des quantités significatives des lipides en forme des corps lipidiques. Ces levures présentent une grande opportunité comme sources renouvelables de biocarburants ainsi que des précurseurs des molécules thérapeutiques basés sur ces lipides. Chaque levure oléagineuse porte un profil unique des lipides qu'elle produit ce qui se reflète sur des applications potentielles différentes. L'étude et la caractérisation de la composition biochimique de ces lipides permet alors de prédire leur potentiel. Dans ce projet, il s'agit l'étude de deux levures oléagineuses, à savoir, Yarrowia lipolytica et Rhodotorula toruloides.
Expertise acquise: Il s'agit d'une expertise enchimie/biochimie, microbiologie, microscopie, imagerie et en analyses moléculaires par LC-MS, et autres.
Admissibilité: Étudiants de premier cycle hautement compétitifs (Canadiens ou résidents permanents de Canada). Cliquez ici pour plus d'informations sur la bourse.
**English**
A very competitive opening for a remunerated full-time internship, funded by the NSERC-Undergraduate Student Research Awards, is available this Summer-2020.
Deadline: 02 February 2020. If you are interested, apply via the link: https://abdel-mawgoud.com/application-form/
Title: "Comparative lipidomic study of two lipogenic yeasts"
Summary: Lipogenic yeasts accumulate significant amounts of lipids in the form of lipid bodies. These yeasts present a great opportunity as renewable sources of biofuels as well as precursors of therapeutic molecules based on these lipids. Each oleaginous yeast carries a unique profile of the lipids it produces, which reflects on different potential applications. Therefore, the study and characterization of the biochemical composition of these lipids allows the prediction of their potential. In this project, two oleaginous yeasts, namely, Yarrowia lipolytica and Rhodotorula toruloides are under study.
Acquired Expertise: The research experience that would be gained in this project are chemistry / biochemistry, microbiology, microscopy, and imaging, and molecular analyses using LC-MS and others.
Admissibility: Highly competitive undergraduate students (Canadians or permanent residents). Click here for more information about the scholarship.