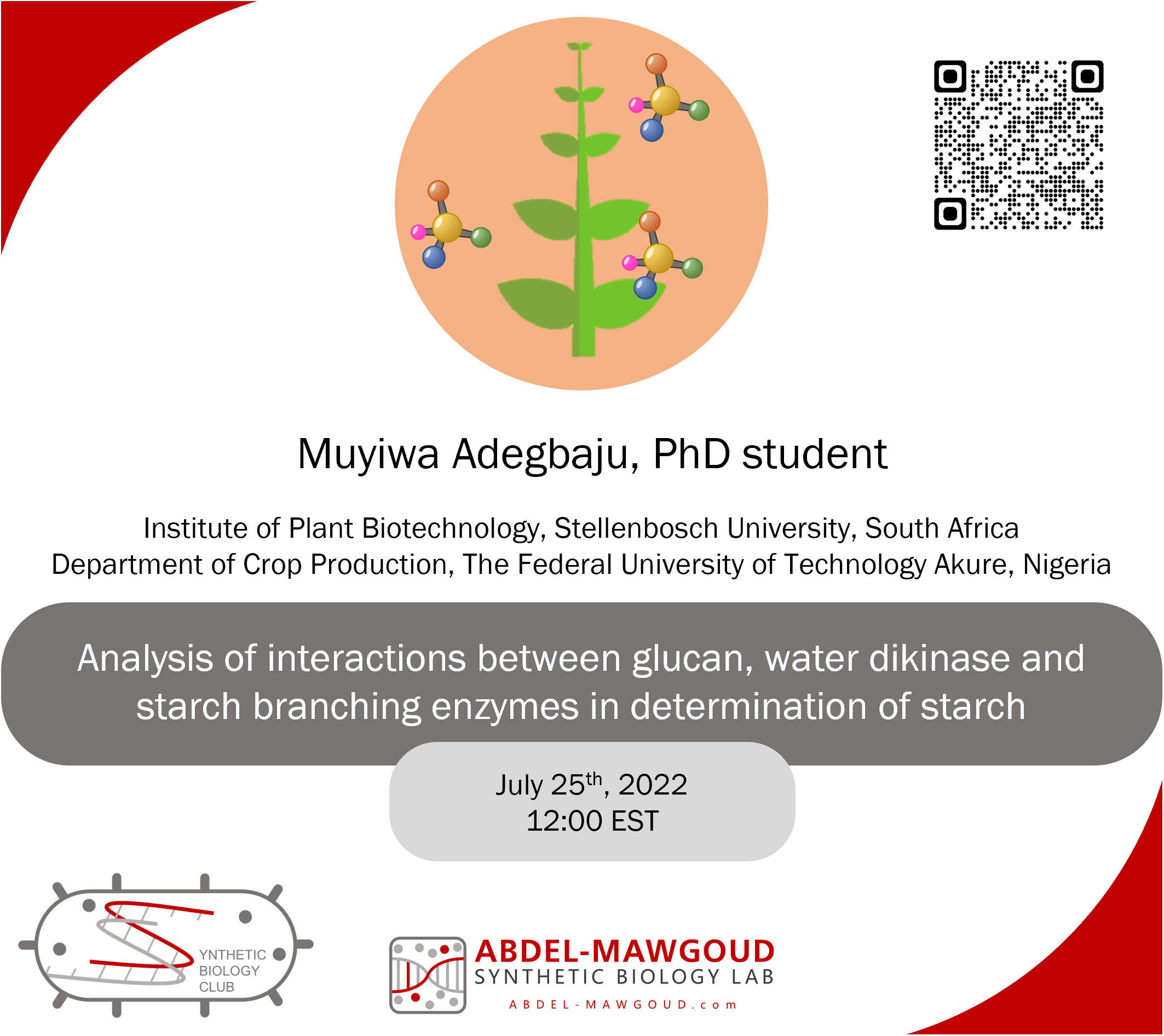 Reminder: Monthly Meeting of SB Club this July 25, 2022
We would like to inform you that the monthly online meeting of Synthetic Biology Club (SB club) will be held TODAY Monday, July 25 at 12h00 (EST). Please, Click here to register after which you will receive the meeting link (zoom).
Title: "Analysis of interactions between glucan, water dikinase and starch branching enzymes in determination of starch structure"
Presenter: Muyiwa Adegbaju, PhD student at the Institute of Plant Biotechnology, Stellenbosch University, South Africa.
Time: Monday, July 25, 2022 at 12h00 (EST).
Place: Online (via Zoom). The zoom link of the meeting is provided by email after your registration. Click here to register.
Abstract: Starch is one of the most bountiful polymers synthesized in nature and is produced as a storage carbohydrate throughout the plant kingdom. It's the most vital component of storage organs in many plants and is a functional polymer with the capacity for providing ecological friendly bio-materials. Starch physical properties and usefulness depend upon many factors, including the proportion of its two polyglucan components (amylose and amylopectin) and the degree of phosphate substitution. Since native starch usually require artificial modification, manipulating starch metabolism to produce plants which accumulate starch with improved properties for industry has long been a goal of plant biotechnologists. Although much knowledge has been produced about the enzymes involved in starch biosynthesis, less is known about how they functionally interact with each other. Such knowledge is essential to help the rational design of starch biosynthesis for production of this environmentally friendly industrial feedstock. In this project, transgenic potato plants that are simultaneously repressed in genes whose products are glucan, water dikinase (GWD) and starch branching enzymes (SBEs) were manufactured through RNAi technology. Increase in apparent amylose content was observed in the starch extracted from tubers of the transgenic lines and consequent upon the alterations in starch composition, the granule morphology, swelling power and freeze-thaw stability of the starch were also altered.