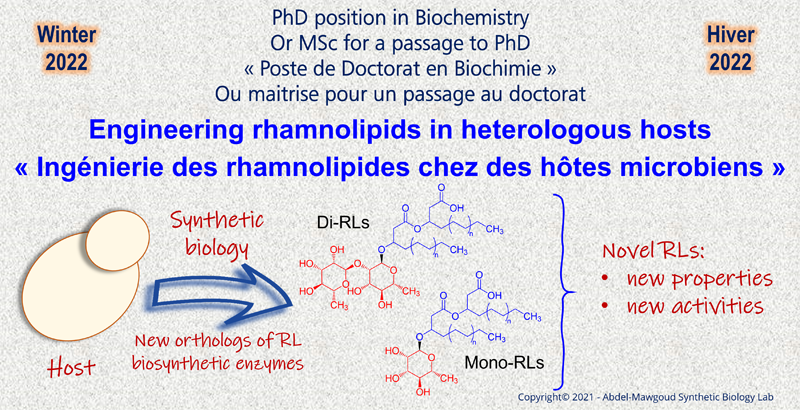 MSc-PhD position – Summer 2022
---
***English version follows***
Un poste de maitrise avec un passage au doctorat ou un poste directe de doctorat avec bourse est disponible pour un début le mai 2022.
Titre du projet: « Ingénierie des rhamnolipides chez des hôtes microbiens à l'aide de la biologie synthétique ».
Date limite interne pour postuler: 07 novembre 2021. Postulez via le lien: https://abdel-mawgoud.com/application-form/
Sommaire du projet :
Les rhamnolipides (RL) sont des glycolipides d'origine microbienne ayant des applications en médecine (comme des agents antimicrobiens, antibiofilms, immunomodulateurs, etc.), agro-alimentaire et phytosanitaire, bioremédiation, détergente et dans les industries pétrolières.
Fait intéressant, les RL ont montré des bioactivités et des propriétés physico-chimiques dépendant de la structure. Cela nous motive à diversifier davantage les structures de RL car elles pourraient potentiellement être associées à des activités plus intéressantes ou nouvelles. Traditionnellement, la recherche de nouveaux RL passe par la collecte d'échantillons environnementaux à partir desquels des micro-organismes cultivables sont isolés et testés pour la production de RL. Cette approche n'a cependant pas eu beaucoup de succès car elle a conduit à l'identification redondante de producteurs de RL déjà identifiés ou à l'identification de structures de RL déjà identifiées. De plus, cette approche n'explore que les microorganismes cultivables alors que ceux non cultivables qui constituent la plupart des microorganismes environnementaux restent inexplorés.
À l'aide d'outils d'exploitation des génomes et des métagénomes, notre laboratoire a identifié de nombreux gènes biosynthétiques putatifs de RL qui devraient biosynthétiser de nouvelles structures de RL. Notre objectif est de concevoir des circuits de biosynthèse des rhamnolipides, de les intégrer dans un hôte microbien approprié (levure ou bactérie) et de vérifier la production de rhamnolipides/glycolipides chez des hôtes modifiés. Enfin, les bioactivités et les propriétés physicochimiques des nouveaux RL seront examinées.
Ce projet implique l'utilisation d'outils de biologie synthétique pour la synthèse, le clonage, l'expression et le test des fonctions des gènes récemment identifiés et qui sont prédits de biosynthétiser des RL. Cela nécessiterait l'utilisation d'une ou plusieurs des techniques suivantes : optimisation/conception de gènes, assemblage avancé d'ADN (Gibson, Golden Gate), techniques de clonage et d'édition du génome (CRISPR-Cas9). Conception guidée par l'analyse de l'équilibre des flux (FBA) de stratégies d'ingénierie métabolique chez des hôtes biologiques appropriés. Ce projet implique également l'utilisation intensive de techniques analytiques avancées telles que la GC-FID, la LC-MS à haute résolution pour la détection et la quantification de molécules cibles et pour les analyses métabolomiques. Pour la confirmation des structures chimiques, des collaborations des analystes RMN seront établies. Des méthodes chromatographiques (comme la HPLC préparative), entre autres, pour la purification des rhamnolipides seront développées. Les activités antimicrobiennes et anticancéreuses ainsi que les propriétés détergentes de nouvelles molécules de rhamnolipides pourraient être examinées et caractérisées.
Ce projet sera mené dans le laboratoire Abdel-Mawgoud de la biologie synthétique (Institut de biologie intégrative et des systèmes, IBIS, Université Laval) financé par le Fonds de recherche du Québec Nature et Technologies (FRQNT). L'étudiant.e aura l'opportunité d'interagir avec d'autres chercheurs travaillant sur l'ingénierie d'autres biomolécules intéressantes ainsi qu'avec des opportunités d'enseignement de premier cycle (pour ce dernier, une maîtrise de la langue française est requise).
Admissibilité : Nous recherchons des titulaires d'un baccalauréat ou d'une maîtrise hautement motivé.e.s et compétiti.f.ve.s ayant une formation dans au moins quatre des domaines suivants :
Biochimie,
Chimie organique/chromatographie/spectrométrie de masse,
Biologie cellulaire/moléculaire,
Microbiologie,
Bioinformatique
Biotechnologie microbienne/Bio-ingénierie.
---
***English version***
A MSc position with a passage to PhD or a direct PhD position with scholarship is available for a start as early as May 2022.
Title of the project: "Engineering of rhamnolipids in microbial hosts using synthetic biology"
Deadline for application: November 07, 2021. Apply using this link: https://abdel-mawgoud.com/application-form/
Project Summary:
Rhamnolipids (RLs) are glycolipids of microbial origin having applications in medicine (as antimicrobials, antibiofilms, immunomodulators, etc.), food and crop protection, bioremediation, detergent and in petroleum industries.
Interestingly, RLs showed an intriguing structure-dependent bioactivities and physicochemical properties. This motivates us to further diversify RL structures as they might potentially be associated with more interesting or new activities. Conventionally, the search for new RLs proceeded through the collection of environmental samples from which cultivable microorganisms are isolated and tested for RL production. This approach however was not very successful as it led to the redundant identification of already identified RL-producers or to the identification of already identified RL structures. Moreover, this approach is only exploring cultivable microorganisms whereas those that are non-cultivable constitute the majority of environmental microorganisms remained unexplored.
Using genome and metagenome mining tools, our lab has identified many putative RL biosynthetic genes that are predicted to biosynthesize new structures of RLs. Our objective is to design rhamnolipid biosynthetic circuit, to integrate them into appropriate microbial host (yeast or bacteria) and to verify the production of rhamnolipids/glycolipids in engineered hosts. Finally, the bioactivities and physiochemical properties of new RLs will be examined.
This project involves the use of synthetic biology tools for the synthesis, cloning, expression and testing of the newly identified RL-biosynthetic genes. This would require the use of one or more of the following techniques: gene optimization/design, advanced DNA assembly (Gibson, Golden Gate), cloning and genome editing techniques (e.g. CRISPR-Cas9). Flux-balance-analysis (FBA)-guided design of metabolic engineering strategies in appropriate biological hosts. This project also involves the intensive use of advanced analytical techniques as GC-FID, High resolution LC-MS for the detection and quantification of target molecules and for metabolomic analyses. For confirmation of the chemical structures, collaborations with NMR analysts will be established. Chromatographic methods (like preparative HPLC among others), for the purification of rhamnolipids will be developed. The antimicrobial and anticancer activities as well as detergent properties of novel rhamnolipid molecules might be examined and characterized.
This project will be conducted in the lab of Abdel-Mawgoud's Synthetic Biology Lab (Institute of Integrative and Systems Biology, IBIS, Laval University) funded by the Fonds de recherche du Québec Nature and Technologies (FRQNT). The student will have the opportunity to interact with other researchers working on the engineering of other interesting biomolecules as well as to teach undergraduate courses (for that last, mastery of French language is required).
Admissibility: We are seeking highly motivated and competitive BSc or MSc degree holders with backgrounds in at least four of the following domains:
Biochemistry,
Organic chemistry/chromatography/mass spectrometry,
Cell/molecular biology,
Microbiology,
Bioinformatics
Microbial Biotechnology/Bioengineering.
---